Our Customers Say:
" it is no overstatement to say that between them the Calmin™ rosacea products have completely given me back my 'old' skin for which I am very grateful indeed. No dryness, no spots, no redness and no outbreaks – quite amazing!"
Ian ". Results may vary*
"Since I have been using your products there has been a marked improvement which both my family and friends have noticed and commented upon.  … I am absolutely delighted with the improvement of my rosacea"
D. Results may vary*
" I now understand why the products are called Calmin™ rosacea  because that is exactly what they did as soon as I applied the products. Immediately they took the 'anger' out of my [rosacea prone] skin"
Mary."   Results may vary*
We understand that it's important you find the right skincare for you.
That's why we offer a 30 day refund on all purchases.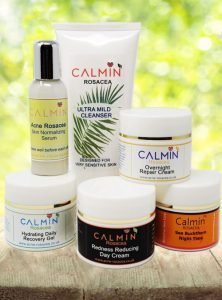 Fragrance free
Colour free
Vegan friendly
Cruelty free, no animal testing
Water based
Paraben free
Free of irritating alcohol
"The gentlest skincare products I have recently discovered are the Calmin™ skin care range"
— Woman Magazine beauty editor, Caroline Hogg
---
* Disclaimer: Our Calmin™ products are not treatments for any medical condition but skin care products designed to protect, soothe, reduce the appearance of redness and cleanse without FURTHER irritation. We are not medical professionals but simply fellow Rosacea sufferers.  We always advise seeking your Doctors advice for proper diagnosis and prescribed medication if applicable.